The Normal Bar
Have you ever wondered if your relationship is normal? Are you as happy or unhappy in your relationship as everyone else? What is the normal amount of arguing couples do a month, a week, a day? What is the main stressor in relationships? How often do couples have sex? How many of us are in a fulfilling, loving relationship? Well…The Normal Bar, written by Chrisanna Northrup, Pepper Schwatrz, PhD, and James Witte, PhD, gives us a peek into the lives of nearly 100,000 respondents who reveal what "normal" behavior among happy and not so happy couples looks like.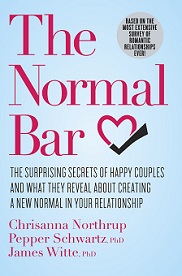 The book is loaded with unexpected details, which may surprise you. For example, the survey found men want romance more than women and the number one thing men wanted from their partner was…communication. Who knew?
According to 28% of the guys polled, "their partners just don't talk or listen to them attentively enough." How often do couples kiss passionately or not kiss passionately? Among men and women who are unhappy in their relationships, over half reported rarely or never kiss passionately, compared to only 26% of those who are happy in their relationship. The majority (58%) of people who are happy share a passionate kiss several times a week.
You will find many, many more interesting statistics within this book. But, the question still remains… how do we obtain a healthy and happy relationship? Since the number one thing couples say they want in their relationship is better communication let's start there.
The authors provide helpful communication techniques and tools to help strengthen relationships, which you can try at home. Here are the High Five! rules discussed in the book:
Step 1- Both partners think of five passions, activities, or interests that they need in their life to be happy (they should not include their partner or children.) Share the lists with your partner and talk about them. This exercise is to understand and respect what your partner needs to be happy.
Step 2-Next prioritize the top five things their partner could do to make them happy.
Step 3- One person describes his or her number one request while the other partner listens.
Step 4- Without responding to the request, the other partner describes their number one request.
Step 5- Without criticizing each other's requests, both partners negotiate a deal through trading or compromise that will allow them to honor and meet each other's request.
Tell us what you think. Have you read The Normal Bar yet? What do you think of their findings… do you think your relationship is "normal"? We would love to hear your thoughts on the book and the idea that there is a "normal" relationship standard.
Want to hear from the author herself? Check out this video from Rock Center with Brian Williams
Licensed Clinical Social Worker
at
Kelly Alcorn, LCSW
Latest posts by Kelly Alcorn (see all)